The advantage of ABS motorized beds is that this material combines the strength and rigidity of the acrylonitrile and styrene polymers with the toughness of the polybutadiene rubber.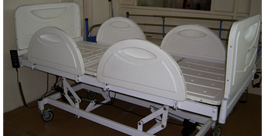 The most important mechanical properties of ABS are resistance and toughness. Due to the use of ABS in its body, this beds offer long durability. Our Electric motorized beds are also available with ABS plastic body; which are a good alternative to Metal beds as they are light in weight and offer a similar
strength and sturdiness as metal ones. In these beds, complete body is made up of ABS plastic and hence are very suitable for use in hospitals and such other places were the chances of wear and tear is higher. These beds are specially designed for hospitals and use by medical centres. The
ABS frame
is given a fine smooth finish and make it a perfect choice for intensive care in hospitals and makes it easy to clean and maintain.

Motorized ABS beds are fitted with an electric motor and can be easily controlled with remote control as well as manually [The manual option is available in selected models only]. The various positions that these beds offer our
Back rest position, Leg rest position, Height adjustable position and Trendelenburg position
. One can change the position of the bed with the help of simple touch on the remote control, if desired the patient can also try combination of different positions simultaneously. Not only these beds are easy to operate but are also easy to maintain and cost effective.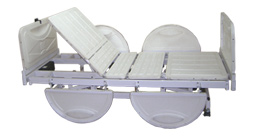 The motorized electric beds can be useful when the patient needs to sleep in backrest or leg rest position or by having both the ends coming up and making a "U" formation. If required the doctors can also get the height of the bed to rise of lower down as the case, this is helpful during examination and conducting the treatments or while operating the patient. The Trendelenburg position helps the doctor to lower one end of the bed either the head side or the leg side as per his needs.

Since the degrees of angles are not predefined the patient can select the best position by himself using the easy to operate remote control. In cases were the patient is not in conscious state, the attendant, nurse or doctor can change the bed position without disturbing the patient or even letting him now. To get more details on how to operate the remote control
click here
.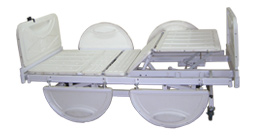 Another optional accessory with these beds is the Memory Foam Mattress which can simply make this wonderful bed a magic bed. This foam is designed with special techniques and material which makes it soft and intelligent.
The amazing part of this bed mattress is that, it actually takes your body shape when you are sleeping on it. This can be very useful when a person is suffering form backache, arthritis, and such other related issues.

As one of the first company to manufacture and export motorized beds with Memory Foam in India, we invite you all to try this amazing product with a 15 day money back Guarantee*.
So what are you waiting for,
click here
and fill our order form for us to contact you and confirm your order or help you with further details. Just in case you are yet not convinced with the benefit of this product then, you may take a demo of this excellent product at our office.
Kindly confirm your appointment on +91 22 65235614 before dropping in, this will help us serve you better.


Different Movement of Bed