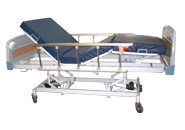 We are the leading hospital furniture manufacturers provide comprehensive hospital bed solutions. Our beds are an attempt to elevate the standard of patient care in India and enhance patient safety, thereby reducing the incidence of the caregiver injury.
Our innovative designs are tailored to meet wide array of needs, ranging from critical care hospital beds to labour room beds to surgical beds and more. We also offer accessories and equipments to add comfort and ease to the patients as well as facilitate handling by the doctors.
We are the reputed bed manufacturers are known as providers of durable and safe hospital furniture.
We proudly say that when it comes to providing quality furniture at affordable prices, we are simply matchless! We won't leave you just by providing the furniture of your needs. We provide you the best technical service support.
We believe in establishing long run relationship with all our clients. Therefore, we listen to our customer's suggestions and complaints earnestly. You can always bank on us for after sales service. We are just a phone call away and will attend you at the soonest.